CURAFLEX
®

is a line of affordable joint health supplements for dogs.
CURAFLEX
®

supplements are specially formulated to help support and maintain your dog's joints and cartilage, helping to keep your friend active.
How do I know if my dog needs CURAFLEX
®

?
Your dog may benefit from taking a CURAFLEX
®

supplement if your dog's favorite activities have been affected in the following ways:
trouble going up or down stairs

walking with a stiff gait

refraining from normal activity

having a hard time rising up after laying down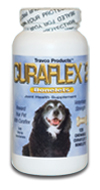 Curaflex 2
Curaflex 2 is a specially formulated tablet to help maintain healthy joint cartilage, which is important in keeping your dog active and mobile.
More about Curaflex 2
About Travco Products, Inc.
Curaflex® is made by Travco Products, Inc., a sister company of Nutramax Laboratories Veterinary Sciences, Inc. Both companies have the same exacting quality and manufacturing standards.
Address
851 Quailty Drive
Lancaster, SC 29720
Customer Service
If you have questions, please call Customer Service toll free between the hours of 8:30 AM and 5:00 PM eastern time, Monday through Friday.
1-888-699-5970