CURAFLEX
®

2 Joint Health Supplement

CURAFLEX®2 is a specially formulated tablet to help maintain healthy joint cartilage, which is important in keeping your dog active and mobile.
CURAFLEX
®

2 contains 2 ingredients used by veterinarians:
Glucosamine hydrochloride

is a natural compound found in the body that has been shown to stimulate the body's ability to maintain healthy joints.

Methylsulfonylmethane (MSM)

is a source of organic sulfur, a nutrient found in your pet's body which is used in the support of cartilage.
Daily Administration Schedule
Initial (4-6 weeks)
Under 15 lbs.
½ chewable
16-30 lbs.
1 chewable
31-60 lbs.
2 chewables
61-100 lbs.
3 chewables
over 100 lbs.
4 chewables
After response is noticed, usually within 4 to 6 weeks, gradually lower number of chewables to a level that maintains your pet. The number of chewables can be increased at any time based on your pet's needs.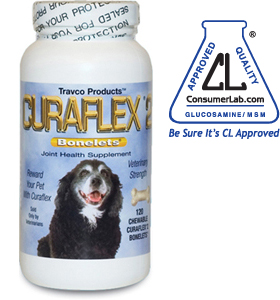 Each Curaflex 2 chewable tablet contains:

| | |
| --- | --- |
| Glucosamine HCl | 500 mg |
| Methylsulfonylmethane (MSM) | 500 mg |
Affordable joint health supplement

Tasty, natural pork liver-flavored chewables

Fun bone-shaped chewables

Ingredients/contents guaranteed to meet label claim